3 things your business is missing in accurately attributing conversions
Your business is exclusively using Google Analytics to track conversions.
Google Analytics is an amazing analytics platform… but wether by intention or not, it does a better job attributing conversions from Google (adwords and organic), than it does other outside vendors.  If you are running Facebook, Twitter, Bing AdCenter, AdRoll, Pinterest, etc. you should consider installing conversion tracking for each major channel.  I've experienced that Facebook ads perform many times better than Google Analytics gives it credit for — but you'll only be able to verify this with the proper tracking setup.
Concerned about slowing down your site with all the extra conversion tracking code?  Try switching to Google Tag Manager.
Your business is blindly attributing view through conversions.
First, what is a view through conversion or VTC?  A view through conversion, unlike a Click Through Conversion (CTC), is a soft conversion that attempts to attribute conversion value simply based on someone viewing your ad (but not clicking on anything).  The assumption is that just the view of your ad played some part in reminding your customer about your product, and that even though they didn't click on your ad, it did influence their buying decision.  This is a fair assumption, but the danger comes when you just blindly accept all view through conversion as part of your value stream.  View Through Conversions need to be attributed according the the value they provide.  In the case of an "infomercial" type video on Facebook, a view through conversion with an attribution window of 24 hours, likely holds some real value.  But my experience is that AdRoll and other companies have been exploiting view through conversions by cramming inexpensive banners across millions of sites on their extensive content network.  The result is that just about ALL your customers will have been exposed to the banners at some point, and so they try to take credit for all your sales as view through conversions.The point is, when attributing value to a campaign, dig deeper and look into what you are attributing and why.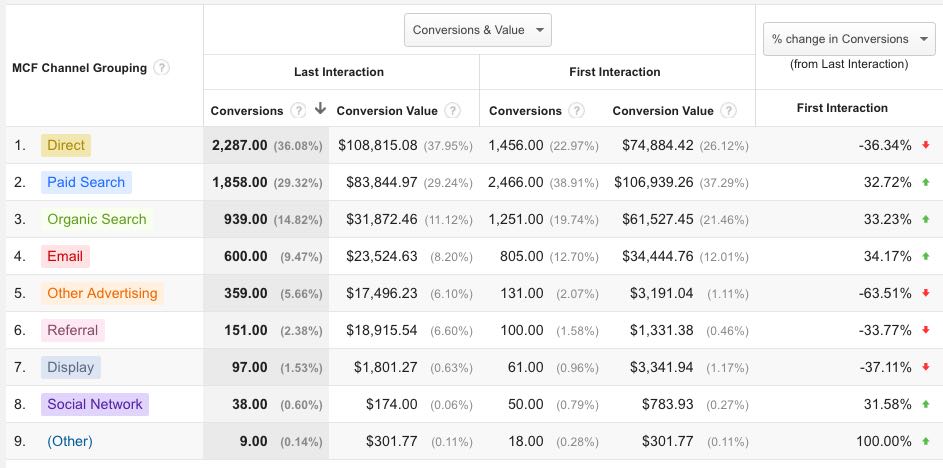 Your business is forgetting to consider multi-touch conversions.
The larger the purchase, the longer the buying decision.  A user might discover your product via a Google Ad, request more information as a result of a re-marketing Facebook campaign, and then make a final purchase based on an email promotion.  How is your business attributing value to each one of the campaigns?  If you have Google Analytics on auto-pilot, where it chooses, then you are likely not seeing the full picture.A highly recommend the Google Attribution Modeling Tool.  You can easily check different attribution models for your various campaigns.  Compare last touch modeling to first touch modeling, how do the conversions shift among your different campaigns?  You can also look at last non-direct click, or time decay, or even create your own custom model based on your customer journey mapping.